Starting 2nd January 2017
Wanted: 10 Frustrated Fed-Up Leicester Ladies Who Want To Transform Their Body And Get Their Confidence Back!
To take part in a physique transformation programme that ensures great results and comes with a money back guarantee! 
Side effects: You might experience significant weight loss and feelings including delight, increased sex drive, happiness and confidence during and after the programme!
***********************************************************************
Beautiful Body Transformation Features:
12 weeks of sessions with a highly qualified and knowledgeable coach so that you can make real progress in a remarkable time frame
3 sessions/week so that you can experience the best of the current training programmes and get the best results possible
Personalised nutrition coaching so that you can continue to do great work outside of the gym and support your new training programme with fantastic ideas and the right fuel for your body type and your preferences
Mindset coaching so that you can tie it all together and feel like you are on track to achieve something amazing with the guidance of an experienced coach who can help you get into the shape that you want
Daily guidance so that you never feel lost or alone, with my support I'll help you to tackle everyday problems with simple solutions
All for the incredible price of £300 with a money back satisfaction guarantee
*********************************************************************
Benefits of the transformation:
Weight loss 100% guaranteed so that you get what you have always wanted – to feel confident and sexy every day
Your clothes will fit better and you'll feel sassy knowing that you can walk into any shop and fit into your size – you might even have to buy smaller ones -> more shopping trips!
You will have oodles more confidence in your body so that you never end up feeling desperate and frumpy again
You will learn how to integrate new habits with your current lifestyle so that you don't lose all of the things that you love doing and you don't have to give up the things that you love to eat and drink
Visible progress so that all of your friends and family will be asking for your secret
No expensive fads or diets because they don't work, I teach you to use real food and how to balance things so that you can have a bit of what you fancy without jeopardizing your progress and still lose weight over the 12 weeks
Recipe ideas and tips to make nutrition more interesting so that you don't get bored like last time you tried to lose weight
Confidence to look at yourself naked in the mirror and feel proud of the skin you're in
Tips and hacks for everyday life that make it easier than ever before to change and see fantastic changes in your body and mind
*******************************************************
Progress like this can be kick started with this programme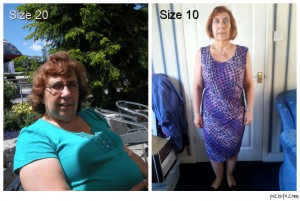 I will even throw in a few bonuses for those action takers who snap up this amazing offer because I love to over-deliver and give you amazing value!
Bonus Feature
Personalised dietary analysis so that you can be certain that you are eating right for your body type allowing you to look and feel fantastic every day
Access to a private on-line support forum which is the top secret to maintaining your weight loss after you complete the programme
**********************************************************************
Summary of Transformation package:
3 hours per week
12 weeks of training
Massive physique changes
Long term mindset changes
Are you up for it?
Starting on 2nd Jan 2017
All enquires to Nicola
ONLY FOR LADIES WHO REALLY WANT TO CHANGE